2011 Cadillac Escalade Windshield Replacement in Roseville, CA
2011 Cadillac Escalade Windshield Replacement
Three windshield replacement options.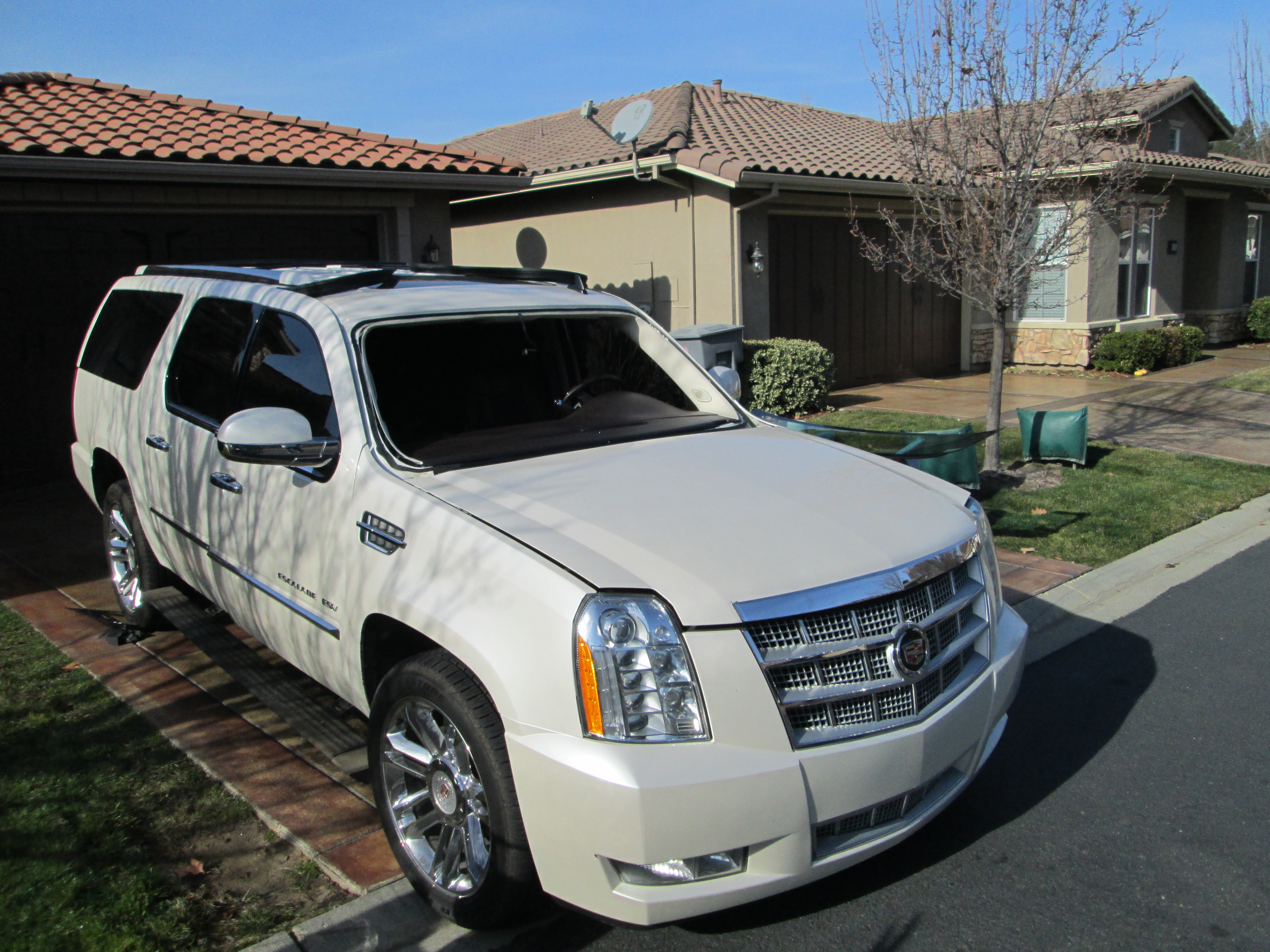 DW1658 (Solar, 3VF)
DW1659 (Slr, 3VF, Rain Sensor)
DW1883 (Slr, w/ 3rd VF, Acoustic Interlayer)
Most Escalades use part number DW1883 if there in no rain sensor on the windshield. This is good but will cost you a little more money. You will find that part# DW1658 will work just fine and save you around $100.00 but will give you a little more wind noise.
What to look for in pricing:
I have see time and time again you are sold a Acoustic Interlayer Windshield part DW1883 but get part number DW1658.You are not getting what you have payed for. Also if you are using your insurance company to pay for the replacement ask for the acoustic windshield. They often look for the cheep way out. So always look on the windshield before it is installed to see what part number it is.
Upgrade Your Windshield?
This is the time to take a look to see if you have a blue shade band at the top of your windshield. Most Cadillac Escalade do but there were some made with out the shade. Take a look at both photos. They are a before and after a windshield replacement on this Cadillac Escalade. You will see up buy the sun visors that this makes a difference. I used part number DW1883 GBY for this Escalade. The GBY stands for green glass with a blue tint at the top. The Y is for the molding that is on the windshield.
How To Protect From UV Damage
Now that you are looking to replace your windshield. There is an easy way to protect seats and dash from UV damage. Using a Covercraft UVS100 Heat Shield
in your windshield.
Covercraft UVS100 Heat Shield Review
Review Author: Michael A. Powell
Review Date: January 11, 2014
Rating: 
 (5 /5)
Summary: Helps to reduce interior temperature and protect the interior from damaging sun rays that penetrate the front windshield.
Covercraft UVS100 Heat Shield Custom Fit Windshield Sunshad
Warranty:
90 day limited
Construction:
Foam core center
Weight:
2.9 pounds.
Dimensions:
31 x 8.2 x 2.5 inches
What's Good:
Protect seats and dash
Reduce interior temperature
Foam core center acts as insulator
Easy to use just fold down sun visors to hold in place
Outside silver reflective surface and soft felt surface inside
What's Bad:
The Bottom Line:
Perfect, custom fit. Keeps the sun off the dash & keeps it cooler in the truck. The blue color looks real good. Highly recommend!