2004 Toyota Sequoia Mobile Windshield Replacement
The 2004 Toyota Sequoia is the same as at Tundra of the same year.
Parts used in this replacement:
FW2359GBN Pilkington
WFT F2215 FLEXI Filler Strip
(2) U-418 Dow Glue
Short cuts to look out for:
Not all auto glass companies are the same. Some will try to reuse the top filler strip Part# WFT F2215 and bill you or your insurance company for a new one. Always ask for this part back before the job is started. It is common to be sold up on this part after the windshield is cut out.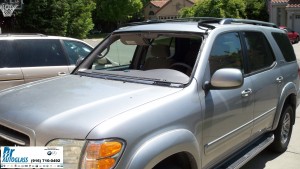 This photo is with the cracked windshield cut out.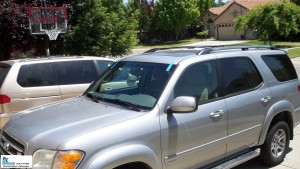 This is the Toyota Sequoia with a new windshield installed into it. If you have a Toyota Sequoia with a cracked windshield give us a call. We offer free mobile windshield repair and replacement in and around
How To Protect Your Sequoia From UV Damage
Now that you are looking to replace your windshield. There is an easy way to protect seats and dash from UV damage. Using a Covercraft UVS100 Heat Shield
on your windshield.
Covercraft UVS100 Heat Shield Review
Review Author: Michael A. Powell
Review Date: January 12, 2014
Rating:





(5/5)
Summary: Helps to reduce interior temperature and protect the interior from damaging sun rays that penetrate the front windshield.
Covercraft UVS100 Heat Shield Custom Fit Windshield Sunshad
Part Number:
UV10907SV
Construction:
Foam core center
Weight:
6 pounds.
Dimensions:
40.5 x 8 x 2.5 inches
What's Good:
Protect seats and dash
Reduce interior temperature
Foam core center acts as insulator
Easy to use just fold down sun visors to hold in place
Outside silver reflective surface and soft felt surface inside
What's Bad:
Little easy to damage.
Panels are a little stiff.
The Bottom Line:
Perfect, custom fit. Keeps the sun off the dash & keeps it cooler in the truck. When the shade is unfolded the individual panels are a little stiff. It doesn't change the functionality.